News
19/02/2021 - Editorial Casals is PEFC ® certified!
In the words of Noemí Mercadé, Casals Editorial Director, "our publishing house is keen to take up the gauntlet of integrating education for sustainability, because we are convinced that education can bring about change and help us build the better world we all long for. This is a world that imbues us with the values of a new eco-cultural civilisation, avoiding simple and hasty solutions.
It is urgent that we explore new ways of living and of building a new ecological culture; to do this, we adults must become aware that we have to set aside certain habits that we have acquired and learn others from our children.
In line with this desire to educate based on the principle that human beings are nature, with which we form a whole, we pay great attention to the editing and production processes we use for our materials. We will have to adapt and this is a path that we have just started to follow, but we consider it essential to help us become aware of our own ecological footprint.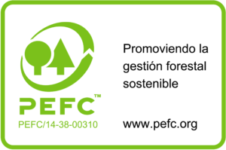 From now one, you will find the PEFC logo on Bambú new titles. It ensures that paper comes from sustainably managed forests, recycled and controlled sources. Every purchase of a PEFC-labelled product makes a difference for forests and forest communities across the world.
We are putting the power of our publishing house to work to make a difference in the world.