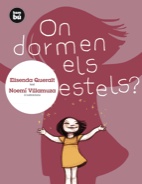 Series;



978-84-8343-029-3

48 pages.

Paperback

Without taxes: 7,21€
Taxes included: 7,50€


Age: 6+

14.5 x 19 cm

Where Do the Stars Sleep?
Author: Elisenda Queralt
Illustrator: Noemí Villamuza

They were born on April 15th at the magical hour of midnight. Possibly for that reason, Alex and Marina share a special bond and a great secret: they can take hold of unimaginable things! When the two friends have to separate, Alex decides to prepare a special present ¿a very brilliant one!¿ for his best friend.
Other titles in the series