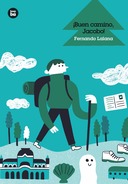 Series;

Big Readers




978-84-8343-600-4

168 pages.

Paperback

Without taxes: 9,52€
Taxes included: 9,90€


Age: 13+

14.5 x 21 cm

Have a Nice Route, Jacobo!
Author: Fernando Lalana

When Aunt Victoria told Jacobo there was something strange about him, she marked his destiny. And when he is diagnosed as "chubby" at the age of 6, his fate is sealed. Therefore, everything the boy tries to do ends up in a big mess, until one day, when Jacobo decides that he is not willing to sit back and watch life pass by in front of him. So he makes the decision to do the Camino de Santiago, like so many other pilgrims he sees pass through Can Fran, his village. What he doesn't know is that the Camino has more than one surprise in store for him. A funny and inspirational story -- closely linked to picaresque and the coming-of-age novel, about overcoming challenges and adversity through the Camino de Santiago pilgrimage route.
Other titles in the series