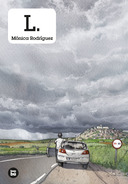 Series;

Big Readers




978-84-8343-797-1

120 pages.

Paperback

Without taxes: 9,13€
Taxes included: 9,50€


Age: 11+

14.7 x 21 cm

L.
Author: Mónica Rodríguez

Pol doesn't want to leave A., but his father has found a good job in L. so they have to go. They'll have a better life there, he says, but Pol doesn't want that: he just wants to go back to A. Far from home, a voice from the past tells him a story of exile, pain, and a treasure that brings him hope he will return to his home. An exquisite story, full of humour and feelings, that makes us reflect on what is ours, our identity, love, and history.
Other titles in the series